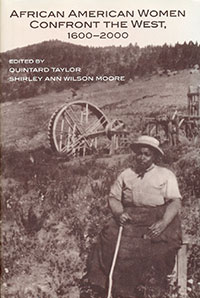 African American women in the West have long been stereotyped as socially and historically marginal, existing in isolation from other women in the West and from their counterparts in the East and South. Quintard Taylor and Shirley Ann Wilson Moore disprove this stereotype, arguing that African American women in the West played active, though sometimes unacknowledged, roles in shaping the political, ideological, and social currents that influenced the western United States over the past three centuries. "African American Women Confront the West, 1600-2000" is the first major historical anthology on the topic.
Contributors to this volume explore the life experiences of African American women in the West, the myriad ways in which African American women have influenced the experiences of the diverse peoples of the region, and their legacy in rural and urban communities from Montana to Texas and California to Kansas. The contributors make use of individual and collective biographies, first-person narratives, and interviews that explore what it has meant to be an African American woman, from the era of Spanish colonial rule in eighteenth-century New Mexico into the black power era of the 1960s and 1970s.
About the Author
Quintard Taylor is the Scott and Dorothy Bullitt Professor of American History at the University of Washington, Seattle. He has devoted more than three decades of research and teaching experience to African American history. His published works include In Search of the Racial Frontier: African Americans in the American West, 1528-1990 and The Forging of a Black Community: Seattle's Central District from 1870 through the Civil Rights Era. He is coeditor with Shirley Ann Wilson Moore of African American Women Confront the West, 1600-2000 and co-editor of Seeking El Dorado: African Americans in California, 1769-1997 with Lawrence B. de Graaf and Kevin Mulroy. He is also the author of over forty articles. His work on African American Western History, African American, African, Afro-Brazilian, and comparative ethnic history has appeared in the Western Historical Quarterly, Pacific Historical Review, Oregon Historical Quarterly, The Annals of the American Academy of Political and Social Science, Journal of Negro History, Arizona and the West, Western Journal of Black Studies, Polish-American Studies, and the Journal of Ethnic Studies, among other journals.
Taylor is the website director of the award-winning portal www.BlackPast.org. This 10,000 page website is the largest free and unrestricted reference center on African American history on the Internet. BlackPast.org is dedicated to providing reference materials to the general public on African American history in the United States and on the history of people of African ancestry around the world.
Shirley Ann Wilson Moore is Professor of History at California State University, Sacramento. She is the author of To Place Our Deeds: The African American Community in Richmond, California, 1910-1963.
Product Details
Hardcover: 390 pages
Publisher: University of Oklahoma Press; 1St Edition edition (May 2003)
Language: English
ISBN-10: 0806135247
ISBN-13: 978-0806135243
air max 90 essential sale